CityWide Campaigns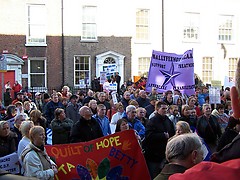 It is essential that the drugs issue is kept on the political agenda to ensure that the necessary commitment and resources are made available to tackle the problem.  Listed below are some of the issues that Citywide has campaigned on: 
Local & General Election
General Election 2016   In the lead up to the General Election 2016, Citywide contacted the all political parties and groupings to look for their Election Manifestos to prioritise policies to tackle Ireland's drug problem. You can view the document here
Local Election 2014: Questions for Candidates
European Elections 2014:Questions for Candidates
General Election 2011:  Citywide Drugs Crisis Campaign launched a general election campaign aiming to put the drugs crisis back on the political agenda.
General election 2007:  Questions for candidates in the General Election 2007
Local elections 2004:  Questions for candidates in the Local Elections 2004
General Election 2002: Briefing paper for candidates in General Election
Drug Debt Intimidation
 Demanding money with menace - drug related intimidation  Feb 2016:  New research from Citywide shows over two-thirds of people experiencing drug-related intimidation do not report incidents to the Gardaí. Almost half of reported incidents of intimidation involved physical violence with one-third involving damage to home or property
Effects of Gangland Crime on Communities  Dec 2014: Citywide made a submission to the Oireachtas Committee on Justice, Defence and Equality on the effects of gangland crime on communities
 Report of the Citywide seminar on 'Drug Related Intimidation in Communities'.  April 2013   There were over 80 participants at this seminar and time was given to discuss experiences of intimidation in communities and projects; the feedback from these discussions is included in the report