Decriminalisation: A New Direction for Drugs Policy?
20 Nov 2013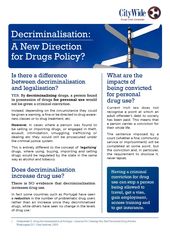 Citywide launches information leaflet: 'Decriminalisation: A New Direction for Drugs Policy?'  Recent public debate has shown a widespread confusion about the difference between decriminalisation and legalisation of drugs. The purpose of the leaflet is to clarify this distinction and to support a debate in Ireland on these issues that is based on the best available evidence and experience from other countries.
We are delighted that this leaflet is being launched by Professor John Crown and supported by Fr. Peter McVerry and Liam Herrick (Irish Penal Reform Trust), all of whom bring exceptional expertise and knowledge to this debate.
At the Citywide decriminalisation conference earlier this year, many people expressed concerns around criminalizing people with addictions and the subsequent effect that this has on their lives. There was widespread support amongst community drug projects for decriminalisation of drug use so that it can be dealt with as a health issue rather than a criminal matter.
The issue of legalisation is more complex. On the one hand, the recent series of Love/Hate highlighted yet again the intimidation and violence that is impacting on people as result of the illegal drugs trade and in particular the risks for young people of getting caught up in this violent world. On the other hand, there is an awareness that Ireland's track record in regulating legal drugs e.g. alcohol and benzos is not very impressive and that legal drugs are a significant contributor to our chaotic drugs problem. 
Download the Citywide decriminalisation leaflet here