About CityWide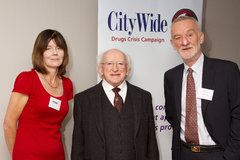 CityWide Drugs Crisis Campaign is a national network of community activists and community organisations that are involved in responding to Ireland's drugs crisis. Set up in 1995 by the Inner City Organisations Network (ICON), to bring together Dublin communities that were struggling with the heroin crisis, we now work nationally linking communities across the country dealing with a range of substance issues.
We work to promote and support a community development approach to the drugs problem - this means involving the people who are most affected by the problem in dealing with the problem - people who use drugs, their families and communities.
Aims
To provide ongoing support, training and networking to local projects and activists working on the drugs issue.
To promote and support an inter-agency response to the drug problem, including government departments and agencies, trade unions, community and voluntary bodies.
To campaign and lobby for national drugs policies that recognise inequality and disadvantage as an underlying cause of community drugs problems and reflect and respond to the reality on the ground.
To represent the community sector on national policymaking bodies as part of the government's National Drugs Strategy.
Annual Reports