Origins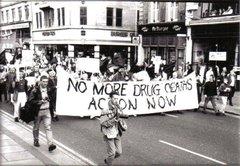 Citywide Drugs Crisis Campaign was formed in response to the very serious and very dangerous drugs problem which existed in Dublin in the 1990s, a problem which has persisted until the current day. In the 1990s the drugs crisis was characterised by large numbers of drugs related deaths (especially amongst young people), by open and visible drug dealing, by the absence of treatment and rehabilitation services for people using drugs and by entire communities being destroyed by the drugs problem.
Inadequate State Response
At the time when Citywide was formed in 1995, there was an inadequate and ineffective response to the drugs crisis from relevant statutory agencies: An Garda Síochána, Local Authorities and Health Boards. Local communities and community activists were left with no option but to become more directly involved in tackling the drugs crisis. Citywide emerged from a mass meeting of community activists and other local residents which took place in Liberty Hall in 1995. The meeting, organised by the Inner City Organisations Network (ICON), identified the need to set up some type of structure or forum which would enable individuals and groups to come together on a regular basis to progress a whole range of issues and proposals relating to the drugs issue; and to put pressure on relevant statutory agencies to deliver practical and effective responses to the severe drugs crisis which was destroying the lives of so many people and so many families within particular communities in Dublin.
Coherent, Collective and Co-ordinated response required
At the time of the establishment of Citywide, community activists and local residents were acutely aware of the fact that the drugs crisis in Dublin really began in the late 1970s and early 1980s. The re-emergence of the crisis in the 1990s was a reflection of the failure to put in place adequate supports, services and facilities during the time of the earlier drugs crisis. In this context, those people involved in the establishment of Citywide in 1995 were anxious to ensure that the responses to the drug crisis this time around were substantial, meaningful, targeted and co-ordinated.