End Compulsory Urine Testing in Methadone Services
21 Jan 2016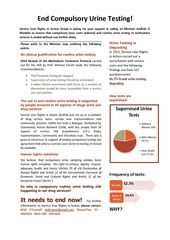 Citywide is supporting the Service User Rights in Action Group  demand that  compulsory (non court ordered) and routine urine testing in methadone services is ended without any further delay. The practice is degrading to service users, has no clinical justification and most likely contravenes basic human rights.  We are asking you to contact Minister Aodhán Ó Ríordáin to ask him to act immediately to put an end to this practice 
For more information please see attached leaflet.    
See sample letter below.
Sample Email to the Minister
Dear Minister Ó Ríordáin,
 I write to you to support the Service User Rights in Action (SURIA) call for an end to the practice of routine & compulsory (non court ordered) urine testing.
 SURIA have consulted widely on this issue and have found that service users feel degraded by supervised, compulsory routine testing.  The 2010 HSE review of the Methadone Treatment Protocol carried out  by Prof. Michael Farrell, established that there is no clinical justification for routine urine testing and recommended that frequent testing be stopped and that supervision of urine testing should be eliminated.  SURIA also believe that the practice of compulsory routine urine testing contravenes basic human rights.  The call to end this practice is supported by HSE practitioners, G.P.s, Policy representatives, Community and Voluntary reps (for more information please see attached leaflet). 
 Minister, the practice has to stop now!
 As Minister with responsibility for the National Drugs Strategy I am urging you to seek support of the Minister for Health to put an end to  this practice immediately.
 Yours sincerely,