Stand with Human Rights: Global Day for the Philippines
20 Feb 2019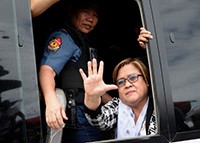 The Stand with Human Rights: Global Day for the Philippines is February 24th 2019.
Join us to raise the alarm over the ongoing extrajudicial killings in the Philippines drug war and to call for the immediate release of Philippine Senator Leila de Lima who has been imprisoned on politically motivated charges since February 24, 2017 as a result of her opposition to the unlawful killings.
Since President Rodrigo Duterte took office two and a half years ago, Philippine National Police have acknowledged killing 5,000 people in anti-drug operations, and report another 22,000 "homicides under investigation." Philippine and international human rights organizations believe the 5,000 are extrajudicial killings by police, and that many of the 22,000 killings were orchestrated by the government.