Demanding Money with Menace: drug-related intimidation and community violence in Ireland
16 Feb 2016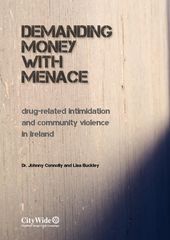 New research shows that over two-thirds of people experiencing drug-related intimidation do not report incidents to the Gardaí mainly for fear of reprisal. The research which is set out in the report, Demanding Money with Menace: drug-related intimidation and community violence in Ireland— carried out jointly by CityWide Drugs Crisis Campaign and criminologist, Dr Johnny Connolly — also shows that almost half of the incidents of intimidation involved physical violence and almost one-third involved damage to homes or property.
Demanding Money with Menace: drug-related intimidation and community violence in Ireland was launched this morning at a media briefing in Dublin's Liberty Hall.   You can download the report here
Anna Quigley, CityWide's Co-ordinator, explained that the research — which raises questions for discussion rather than provide solutions — involved an audit of 140 intimidation report forms collected from 13 Local and Regional Drugs Task Forces, focus groups attended by 150 people across these Task Forces as well as six additional focus groups held with ex-prisoners, family support workers, Travellers and youth workers. Key findings include:
 Three-quarters of intimidation incidents are directed at drug-users or the person in debt, while mothers of users are the target for one-third of incidents;
Almost half the respondents – 46% – said the intimidation involved physical violence and 32% reported damage to property or homes;
67% of those who experienced intimidation reported mental health problems as a result of that intimidation, 37% a physical injury and 30% reported other health problems;
70% report fearing for their personal safety in their own homes with 21% leaving home temporarily and 17% permanently;
Over two-thirds said they feared for their safety in their local areas and, as a result, avoided certain areas and people resulting in social isolation.