Join the national debate on decriminalisation of drug use…..
8 Dec 2015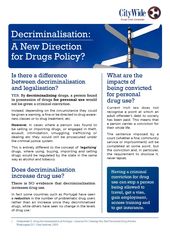 Following the recommendations of the Oireachtas Committee Citywide contacted TDs & Senators to ask them to join the debate on decriminalisation.   
Oireachtas Committee on Justice, Defence and Equality (members: FG, FF, Lab, SF & Ind), November 2015: The Committee strongly recommends the introduction of a harm reducing and rehabilitative approach, whereby the possession of a small amount of illegal drugs for personal use, could be dealt with by way of civil/administrative response rather than via the criminal justice route.
 Minister Aodhán Ó Ríordáin  "I very much welcome the report published by the Oireachtas Committee … I believe that the development of the new National Drugs Strategy will provide a forum for a national discussion on this topic…(of decriminalising the possession of a small amount of drugs for personal use)".
 Garda Commissioner Nóirín O'Sullivan  "I very much welcome a rational and constructive debate around the issue (of decriminalising the possession of small amounts of drugs for personal use) and the Gardai would certainly welcome the opportunity to contribute to any further discussions"
 P.J. Stone, General Secretary of the Garda Representative Association  "Innovative thinking is to be welcomed…if unfortunate young people who are caught up in the scourge of drugs can be dealt with in a way that gives them a better chance… if that can be done through a health regime, I'm all for dealing with it that way. Stop criminalising people who are themselves addicts, that's not going to work for us". 
The proposal from the Oireachtas Committee is that drug users should no longer be criminalisedfor possession of drugs for their own use i.e. decriminalisation.  Under this proposal the drugs in question remain illegal and there are NO proposals to make drugs legally availablei.e. legalisation.  
 For further information, see attached Citywide leaflet on decriminalisation.